So a little back ground first. About 2 years ago I got into the BBC show "The Great British Bake Off." While I was watching the first episode I fell in love with everything! The way everyone on the show spoke, the judges, and the food. For some reason every contestant on that show can make everything look perfect. All of their fails would be my victories in the kitchen.
Did I mention the judges? I LOVE Mary Berry and Paul Hollywood. I'm afraid, wait, I KNOW  that if I were to ever bake for them I would forget everything that I know and probably end up serving them Eggo Waffles or something.
After watching the first few episodes I was hooked. I was so intrigued with the baked goods that were being made. I have always loved baking and I'm not too shabby at it (at least I think so). I jumped onto Amazon and bought Mary Berry's Baking Bible and Paul Hollywood's Guide to Baking cook books along with a scale, because everything in their books are in grams, and then decided to bake. I've tried a few things in their books, but this last week I decided to become brave and try not one, but two recipes in Paul Hollywood's book. I have been dying to try chocolate croissants and danishes so I took the plunge.
I have this really bad habit of wanting to bake something amazing and then halfway through I get super inpatient so I hurry through because I am so excited to see the end product. By the time I'm done, I have a huge disaster on my hands which is covered in a thin layer of salt because of my tears that I have shed. My husband tells me all of the time to take my time, go slow, read the recipe and most importantly not try something intense or new for an important occasion. However this was not the case this time.
The pastries turned out awesome!! My 5 year old ate 2 croissants and 2 danishes before I could even try one myself! They were both a two-day process, but it was worth every second!
The croissants are buttery, flaky, crispy pastries that melt in your mouth. They aren't the normal croissants that you buy at Costco that are super soft and huge. They are smaller and crispier, but then as soon as you pull one apart you find a wonderful, buttery, flaky, soft inside. And then the chocolate starts to goo out (is that a word?). Either way you can imagine it can't you? My kitchen smelled like heaven while they were baking!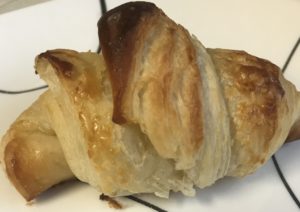 The danishes had tons of buttery, flaky layers that were formed into cute little stars and then topped with a Creme Patisserie, homemade strawberry jam and a drizzle of icing to finish it off. They were little stars of heaven to say the least!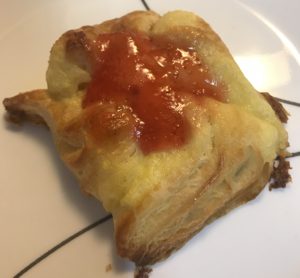 Needless to say, I will be making both of these pastries again. They are a little time consuming, but Paul does an amazing job at breaking down every step in every recipe. He has tons of pictures too so you can see what your products should look like at every step. He makes any recipe seem like it is for beginning bakers. It gets a little hairy in some places, but Paul is right there with you in every step and you end up making a beautiful baked good.
Both pastries require two days to make. You have to make the dough, let it sit for an hour in the fridge, then put a square, yes a square, of butter on the dough, layer it, let it sit for another hour in the fridge, roll the dough again, fold it, put it back in the fridge, do this for two more times and then let the dough sit in the fridge for 8 hours. The next day you roll the dough out, shape the pastries into its proper shape and then let them sit out in a cool room for 2 hours. FINALLY it's time to bake. By this time my patience was killing me! I pulled through though and let these little beauties bake and then finally pulled them out of the oven to taste. I'm pretty sure that Paul would have been slightly proud of me for my beautiful, buttery layers. And if he didn't end up impressed, I sure was!  My husband, who isn't very fond of fruit anything ended up eating 2 of the strawberry danishes which says a ton for me. I'm pretty sure I found 2 recipes that are keepers.
I would love to say that I will be the next contestant on the Great British Bake Off. Heck, I'd love to just walk into the beautiful white baking tent just to see it in person, but unfortunately, I will probably never be able to walk into that wonderful tent and meet Mary Berry and Paul Hollywood. But I am very confident that I will continue to use Mary and Paul's recipes to practice my baking skills.